We have published three articles earlier regarding our experiences with working with Robline and now for our international community we have translated these to English as well. All three articles below.
Article 1, The right rope for the purpose – which end to start?
All sail trim functions onboard Team Pro4u are achieved using a rope/trim line/halyard or other cordage. We have chosen trim by rope, instead of hydraulics or other mechanical systems. The only trim not handled by well-functioning cordage is our standing rig trim.
Having sailed the boat for the last 13 seasons, we have learned what works well and what is less suitable. Particularly from a wear and tear and a safety point of view. All running rigging, trim ropes and halyards have of course been changed many times during the years and we have concluded what we need in order to maximize the performance of the boat.
When replacing a piece of rope on-board, our goal is very clear that we shall gain a small advantage in strength, weight, windage, stretch or handling. In 2018 we started to sail with all our running rigging from Robline and, even when coming from premium cordage from other brands, we have a lot of praise for the results the swap has led to. We have been helped to choose the right combinations and we have experienced what a professional splicing centre can achieve with peelings, thickenings and eyelets in the right places.
On the outside ropes look more and more the same, while core and fibres either are refined or made cheaper. The contact person that helps us making the right choices thus becomes an important part in the equation. The outside viewpoint, the dialogue and the questions whether we shall replace a rope with a new of similar build or go a different way is also of great benefit. As an example, we replaced our spinnaker pole lift with a particular halyard rope that has an extra thin core, helping us lose unnecessary windage.
The deep product insight by the Robline representative quickly led to correct advices and close to perfect solutions for us. This is probably also the shortest way to make use of the assembled experience from other top race teams.
Some of the most important lessons we have gained and want to share are:
Less windage and drag and often also better handling and friction characteristics through smaller dimensions. If the rope slips in jammers, maintain them, work with wet ropes, thicken the rope by inserting an extra core or change the jammer cams. Having thick ropes just to make sure they stick in the jammers will never be fast.
Taper all ends and make sure to do it as neat and seamless as possible. This improves handling and minimizes windage.
Neat eyes/eye-splices in the rope ends enable quick changes of hooks and/or changes of halyards.
Soft-shackles sewn with a single stitch in the rope end eye enables safe sail changes and can easily be replaced when worn.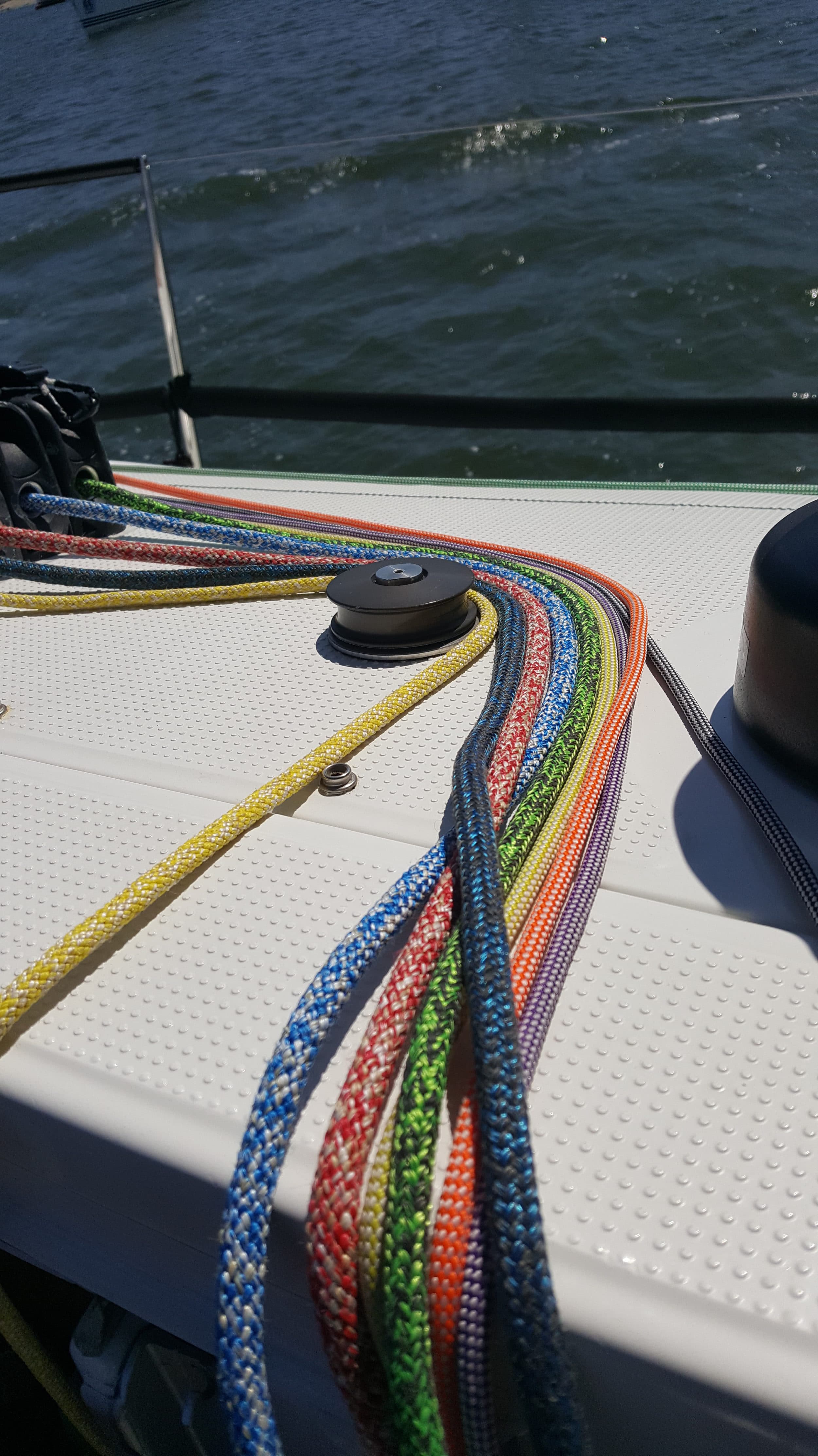 Article 2, The joy of a professional splicing centre
Yacht racing at the top level requires smoothly functioning running rigging, sheets and trim lines just as explained in previous parts. A great deal of the functionality lies in the ability to utilise thin strong ends where that gives a gain, smooth transitions and tapers between the peeled part and the cover end of the rope as well as nice loop ends.
Thanks to our collaboration with Robline, we have had the benefit of getting support with custom solutions for our ropes. All halyards are peeled and nicely tapered to gain an advantage regarding windage and weight. Previously we have been overly conservative regarding dimensions and tail ends due to the risk that the ropes would not stick in the jammers. Thanks to Robline we have had the possibility to seamlessly make taperings and thickenings at crucial points on the rope where the jammers are. We have also been able to use thin cores outside the halyard pulleys where the windage really counts.
An example is our pole topping lift which is 8 mm in the tail where the jammer works, while being only 5 mm the whole length the rope sits on the outside of the mast. Our spin halyard is of the same dimension, but has received a thickening where it hits the jammer, making it a tad more than 11 mm in diameter where needed. All transitions and tapers where the covers end inside the core are really neat and slim, making them pass smoothly through the jammers, halyard exits and pulleys.
Half the spin halyard and the pole topping lift spend their upwind legs on the outside of the mast tube, where their windage drag is significantly reduced as the diameters are minimized. The 8-10 mm ropes compared to a sleek 5 mm core makes a significant difference.
The key benefits we have appreciated the most regarding the splices, joins and tapers from the Robline splicing centre are:
Good workmanship and overall quality feel.
Sleek tapers and joins.
Seamless/sleek thickenings for jammers. Crucial to be able to diminish dimensions.
Exact lengths and positionings of tapers, splices and others.
Beautiful finish.
All splices, whippings, lengths and tapers have been finished to such a level that we literally unpacked, moused and were able to race directly. The pilots-ends were of great help to facilitate the mousing.
Article 3, The right product in the right place
To be able to use the maximum performance from the lines is it also important to have the right line in the right place. Depending on area of use on board we have had different criteria for the different lines. For our halyards for jib and main have we requested ropes with low weight, low stretch and high breaking load. The choice fell on Admiral Pro with STS-core. STS, "Stronger than steel", is a specially treated prestretched Dyneema SK78 that fulfils our criteria regarding weight, stretch and breaking load. This rope has enabled us to decrease the dimension on our halyards resulting in less windage and drag while not reducing our safety margins regarding breaking load. This core together with a high performing cover that works well in jammers makes this rope perfect for halyards.
When it comes to our jib sheets we have demanded high abrasion resistance since these ropes are used on winches and thereby exposed to mechanical wear. Here the choice fell on Admiral 10000 as thanks to its cover in Technora/polyester has a high abrasion resistance and good control on the winch. To attach the sheets to the headsail we use soft shackles which are lighter but also much milder to the boat and rig compared to metal shackles.
For spinnaker sheets and guys our choice fell on Admiral 10000 as well since these ropes also are on winches and need high abrasion resistance. In order to get as light rope as possible we chose to decrease dimension on the spinnaker sheet and in the same way as with the headsail use soft shackles to attach the sheets to the spinnaker.
Since we also have a lot of trim lines it has been very important for us to be able to separate them through colour to make it easier in stressful situations. Thanks to Dinghy Control's many colours we now avoid multiple lines with the same colour and can have a specific colour for every trim function.
Note: Team Pro4u have a collaboration with Teufelberger around running rigging, this article is part of this support. From a juridical stand-point this makes this text an advertisement, but we fully stand behind what we write regardless of relation to other parties.