Den stora förbättringen av Malin denna vinter är att bygga om kölen. Häromdagen flyttades Malin inomhus och arbetet med kölen kan påbörjas. En hel del tankar och beräkningar ligger bakom den design av kölen vi slutligen valt och vi har samarbetat med Farr Yacht Design.
Nedan är en modell av den nya kölen (blå) och den gamla (röd).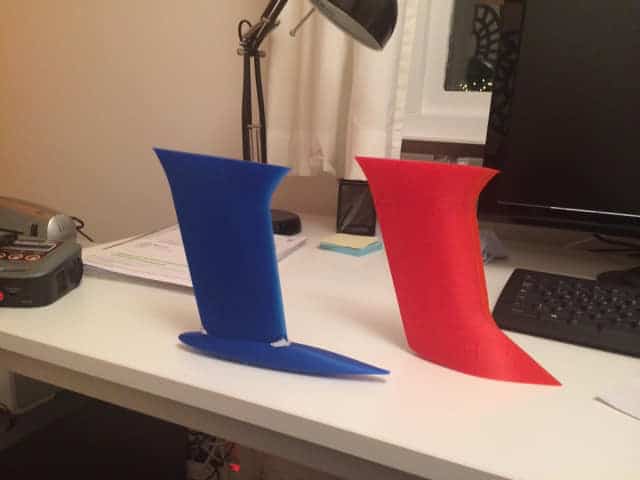 Här är Patriks tankar om den nya kölen.
Samma RM (Rätande Moment) och samma deplacement. Vi minskar djupgåendet med ca 5 cm och båten får ett djupgående kring 2,19 m istället för 2,24 m som idag. Vi och den expertis vi använt tror att vår nuvarande köl har haft dåliga egenskaper i låg fart på kryss, stor anfallsvinkel och i skvalp. Det stöds av vår empiri. Med den nya bulben hoppas vi bli av med de svaga registren och även få en liten förbättring i övriga vindstyrkor o vinklar. Vi gör också en liten uppdatering av profilen på fenan.  Sammanfattningsvis blir kölen mer "middle of the road" vilket jag hoppas ska vara bra när Malin ska fungera i många år framöver och i flera olika mätregler.
Igår gjordes mätning och förberedelser på kölen inför att den skall sågas av för att ge plats för den nya bulben – vid det nedre strecket kommer kölen att sågas av.