During the weekend, Strängnäs Segelsällskap organized the fourth and last edition of the Allsvenskan in sailing where we got the opportunity to represent KSSS. Before the final, KSSS was in 6th place but we wanted to sail up to a top 5 place in the total.
After a very difficult first day with very light and shifty winds we were only in 10th place in the fourth round of the Allsvenskan, but on Saturday and Sunday morning there was a bit more wind and more stable conditions which we liked.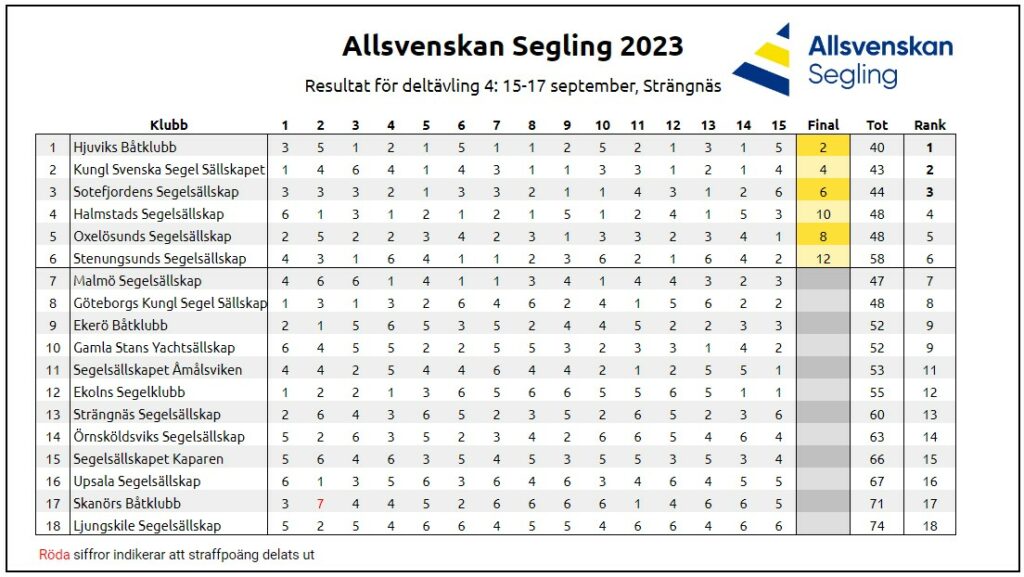 This meant that we managed to sail up to a 4th place before the final and only 1 point behind Hjuvik, Sotefjorden and Halmstad who shared the lead. Hjuvik's boat club had already secured the win in the total but also showed in the final sailing that they are very talented sailors. With a stable win also in the final, they also won this part of the race. Congratulations!!!
For our part, the final started a little hesitantly but a half-baked start and we had a little too bad speed and were oversailed by Hjuvik, but after that we could break free and managed to round the first tick mark as 2nd and keep that place throughout the final. This meant that we finished in 2nd place in Strängnäs but because Sotefjorden came in 3rd place just before Öxelösund, we, KSSS, came in 3rd place in the total on the same points as Sotefjorden.
Congratulations and many thanks to all the participating teams who made this great weekend.
Many thanks to Strängnäs Segelsällskap and Svenska seglarsällskapet for a great arrangement and to KSSS that we got the honor to represent the Royal Swedish Sailing Society in the fourth and last part of Allsvenskan Segling 2023!
Finally, a big thank you Photographer Daniel Stenholm for these great pictures!